Duct Sealing Professionals
Kansas City
Duct Sealing Services
By Full Nelson Services
What is HVAC Ductwork Sealing?
Duct leakage is a very common duct system issue that very few homeowners are aware of. When an HVAC system has air leaks, even the most minimal cracks and holes can lead to a significant leakage if left overlooked. Each metal-on-metal connection that does not have a proper sealant can result in uneven room temperatures and wasted energy in utility bills from leaky ducts. 
95% of all homes have leaky ducts, but air duct sealing is the solution to minimize wasted energy and improve airflow throughout your duct system. Duct sealing is the process of connecting Aeroseal technology to your home's heating and air conditioning system and distributing the sealant evenly within the HVAC system, no longer relying on taping or applying mastic in hard-to-reach places and crawl spaces. Aeroseal's trusted technology is the most energy-efficient way to seal your ductwork.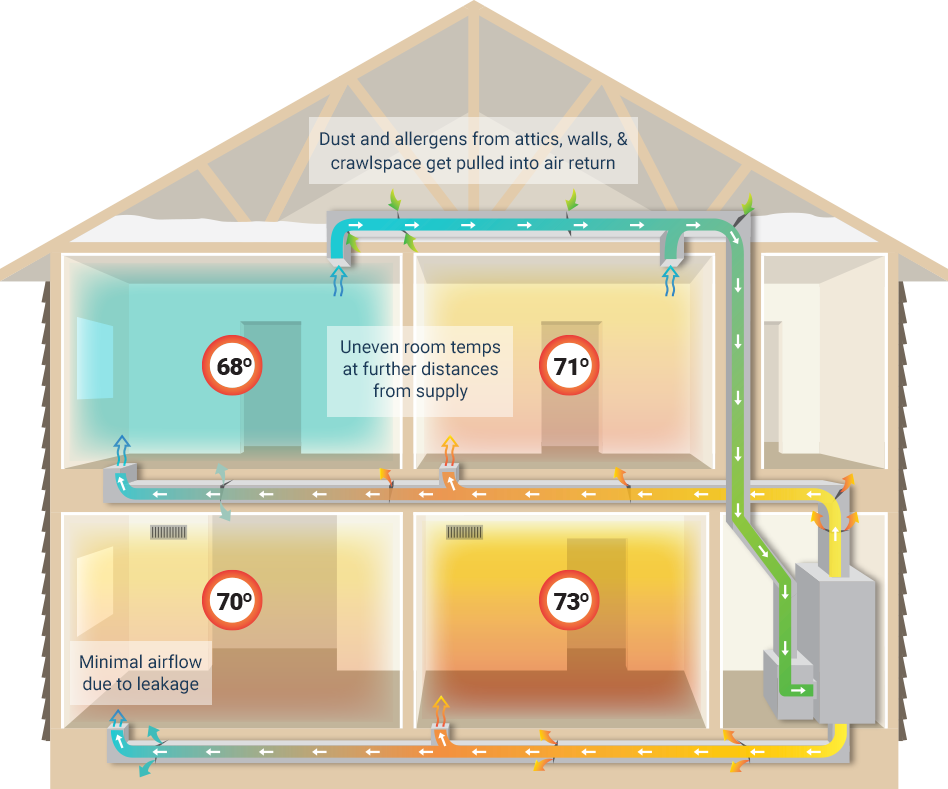 Why Choose Aeroseal Ductwork Sealing Solution
Aeroseal is a non-toxic, water-based formula that effectively seals cracks or holes within your heating and cooling system's ductwork and vents. The Aeroseal technology increases your home's indoor air quality and energy bills in three easy steps:
Residential AIR DUCT CLEANING IN Kansas cIty
Ductwork is the last thing we think of when talking about HVAC system maintenance, but that doesn't mean it's not important. Quite the opposite–the fact that it gets so little attention means that a residential air duct cleaning could make a noticeable difference in your home's air quality.
Improve the efficiency of your heating and cooling system. Buildup of dust and other debris in your ducts could restrict airflow, causing your AC or Furnace to work harder in order to move the air and keep your home at the desired temperature. Cleaning the ducts can increase the efficiency of your system and help cut down on your utility bills.
Decrease allergens and irritants in your home. If you have pets, you probably spend quite a bit of your time wiping down the surfaces in your home and vacuuming vent covers. You probably don't want to think about the amount of pet dander, fur, and dust that is accumulating in your ductwork and being blown throughout your home. If anyone in your home deals with allergies or asthma, cleaning the irritants, pollen, and microbes out of the ductwork can help.
Prevent and remove unpleasant odors. A good cleaning can help your house smell fresh. Paint fumes, smoke, cleaning supplies, mold, and much more can get caught or build up in your air ducts, which can spread unpleasant smells throughout your home.
Improve the air in your home. Air passes through your ductwork and is circulated throughout your entire home, and can easily pick up and carry irritants and dust to every room in your house. Duct cleaning can help keep your entire home cleaner and smelling better than it would otherwise.
If you have more questions about duct cleaning, call today to meet with one of our heating and cooling technicians. We test for mold, allergens, airflow, and assess for any other indoor quality issues in Kansas City. If you're part of the Service Club, talk to your expert about home and commercial air duct cleaning during your next pre-paid tune-up.
When a duct system is left without a professional HVAC cleaning for a long time, a build-up of allergens, contaminants, and dust will be circulating in your home 's ductwork. Full Nelson Services is committed to providing professional air duct cleaning and duct sealing services to homeowners in the Kansas City metro and surrounding areas such as Blue Springs, Fairway, Independence, Johnson County, Leawood, Lee's Summit, Lenexa, Mission Hills, Olathe, Overland Park, Prairie Village, Raytown, Shawnee, and other Kansas City areas.
Full Nelson is your champion for HVAC duct cleaning and duct sealing. Call or schedule an appointment online today.
Heating and Cooling Home Care Checkup
Need A Duct Sealing Service?
CALL US
TODAY TO
SCHEDULE AN
APPOINTMENT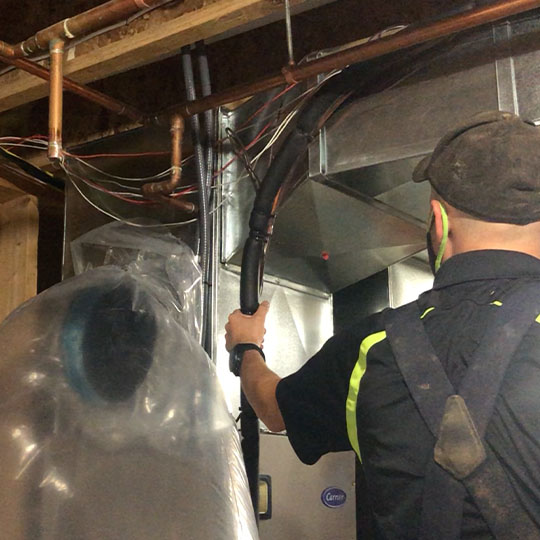 Our goal is to give the best value to our customers throughout the greater Kansas City metropolitan area. Quality and honesty is hard to come by these days, but rest assured our company stands behind the work we do 100%. Our staff is here and ready for you
today 24 hours, 7 days per week. Thank you for choosing Full Nelson Plumbing Heating and Cooling!


1015 E. 14th Ave, North Kansas City, MO 64116
4901 W. 136th Street, Leawood, KS 66224
Here And Ready To Serve You 24/Hours A Day 7 Days A Week